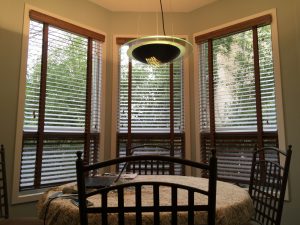 From cheap plastic blinds to threadbare shades, the market is littered with low-quality offerings that will cheapen your rooms. At Knox Blinds, we stock only the best products, ensuring you get a new window treatment that's equal parts stylish, durable, and functional. When searching for expert advice on blinds and shutters, DuPont TN residents trust the knowledgeable pros at Knox Blinds & Shutters to steer them in the right direction.
When you call us, we will set up a free on-site consultation that suits your schedule. Our pros will visit your property and bring along a wide variety of product samples to help you decide on the best solution for your space. Tell us what time works best for you – call 865-544-8339 today.
How to Choose the Right Window Treatment for Your Home
When shopping for new window treatments, it's important to consider a range of factors such as the position of your windows, how much light they receive, and how your new covering will fit in with the other design elements of your home. For example, hard-to-reach windows will almost always benefit from a set of motorized blinds as this solution eliminates the need for chain or drawstring systems.
Here are a few other factors you should consider when purchasing new blinds or shutters:
Do you need insulation? Excessive sunlight can force your A/C unit to work overtime to compensate for rising levels of warmth. Certain window treatments, such as cellular shades, are designed to stem the flow of air seeping through your windows, helping you regulate the indoor temperature.
Do you have kids or pets? The cords attached to some blinds can pose a safety risk to your home's smaller tenants. Investing in a set of streamlined cordless shades or blinds can help eliminate this hazard, giving you peace of mind that your little ones are safe at home.
Is your window in a kitchen or bathroom? Many window treatments are not suited to these high-humidity spaces. Opt for faux woods or aluminum for coverings that won't lose their shine when exposed to moisture.
Schedule Your Free In-Home Consultation for Blinds and Shutters – DuPont TN
The specialists at Knox Blinds will evaluate your property and provide expert recommendations on style, materials, and colors for your window treatments. Call 865-544-8339 today to find out more.