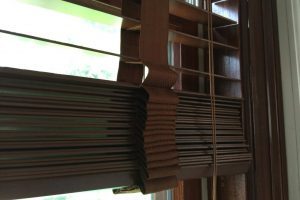 Online shopping has opened the door to unlimited choices, but it can be difficult to know how a set of blinds or shutters will look in your home until the package arrives at your door. More often than not, those poplar slats or varnished frames are two shades brighter than advertised, clashing with your personal aesthetic and disrupting your home's interior design theme. At Knoxville Blinds, we can solve this problem by bringing window treatment samples to your property for free. For blinds and shutters, Kalida TN homeowners turn to Knox Blinds for exceptional customer service and unmatched convenience.
With years of experience working in the industry, our team can help you filter the options and find the best colors, materials, styles, and features for your needs. Call 865-544-8339 today to schedule a free in-home consultation.
What Are the Best Materials for Blinds and Shutters?
Shutters and blinds are available in countless materials, letting you customize your window treatments to meet your unique design goals. Our expansive inventory includes shutters constructed from vinyl, MDF composite grades, and wood.
Wood is a timeless material that can be stained or painted to complement your existing décor, but vinyl and faux woods tend to be more durable and require less maintenance and cleaning throughout the year.
Our high-quality blinds are available in aluminum, faux wood, and hardwood. We recommend aluminum to homeowners seeking a sleek, minimalist aesthetic. Faux wood and hardwood offer a more traditional, natural look.
Choosing the right materials isn't just about aesthetics. While beautiful hardwood will inject old-world charm into your space, this material doesn't fair well in humid spaces such as your kitchen or bathroom. The pros at Knox Blinds will evaluate your rooms and provide suggestions on the window treatments that suit your needs, space, and budget.
Blinds and Shutters Kalida TN Residents Recommend
Make sure you're getting the best window treatments for your space with help from the knowledgeable pros at Knox Blinds. We'll bring samples directly to your home so you don't end up with buyer's remorse. Call us today at 865-544-8339 to speak to a member of our team.