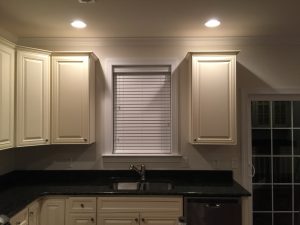 Over time, your brand-new window treatments will start to lose their shine. Collecting dust, stains, and discolorations are an unfortunate part of the job for these important coverings. At Knox Blinds, our pros have spent years working in the industry and have the knowledge, training, and experience to help you with your window treatment issues. In this article, we'll explain how to clean window treatments efficiently and effectively.
Our team strives to make shopping for new blinds, shutters, and shades an enjoyable experience from start to finish. Forget the stress of rushing from store to store or browsing endless websites for the right answers; our pros will let you shop from the comfort of your own living room, providing expert recommendations on the best window treatments for your budget and needs. Call 865-544-8339 today to book a free in-home consultation.
How to Clean Wood Blinds
Your wood blinds are magnets for dust, collecting dirt and debris throughout the day. Using a feather duster, disperse any clumps that may have gathered on the blades. You should turn the blades back and forth to unsettle any stragglers. Then, using a vacuum cleaner fitted with a brush attachment, hoover up the most stubborn dirt (make sure you flick open the air valve to avoid slurping up your blinds' more delicate components).
How to Clean Fabric Shades
Cleaning shades is similar to washing most other kinds of fabric. Using a damp cloth and a gentle detergent, dab at the soiled parts of the window treatment to remove the stains. Finish up by using a vacuum cleaner fitted with a brush attachment to extract any lingering dust from the fabric.
How to Clean Plantation Shutters
At Knox Blinds, we stock high-quality plantation shutters designed to provide unparalleled heat and light control for years to come. Bonus: This window treatment is also easy to clean, simplifying your life in more ways than one. To refresh your shutters, use a duster to brush dirt and debris from your window covering. Then, using a cloth and a high-quality furniture polish, wipe your shutters until they're as good as new.
Call Us Today for Expert Advice on Blinds, Shutters, and Shades
Now that you know how to clean window treatments, let our pros help you find the perfect blinds, shutters, or shades for your home. Call 865-544-8339 today to find out more.