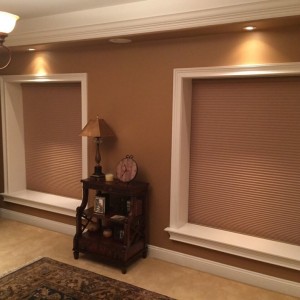 Choosing the right window treatments for your house or workplace can be challenging. You need to select products that will be durable and functional, as well as stylish. Knox Blinds offers a wide range of popular window treatments that can make your home or business more comfortable and attractive!
The Right Window Treatments Can Transform a Room
Knox Blinds sells blinds crafted with real and faux hardwood, as well as aluminum. Our blinds are beautiful and durable. They're also easy to operate and can even be motorized so you won't have to move from room to room and adjust them manually.
Shades can let you control the amount of light that enters a room and can lower your utility bills. They can also enhance a room's style and give it a more sophisticated appearance. Knox Blinds offers cellular, roller, Roman, and woven wood shades.
If you'd prefer durable plantation shutters, Knox Blinds has models that can be installed on practically any type of window. You can select shutters made with vinyl or MDF composite or real wood.
Learn More about the Popular Window Treatments Knox Blinds Has to Offer
You may be feeling overwhelmed by the myriad of choices and may need help figuring out which window treatments would be best for your home or business. That is precisely why Knox Blinds offers consultations! A member of our team can schedule a time to meet with you at your home or business. You'll have a chance to see and touch samples of the window treatments we offer, learn more about their features and benefits, and ask questions.
Customers also appreciate the opportunity to look at window treatments in the room where they will be installed. All too often, people see blinds, shades, or shutters in a showroom or online and think they'll be perfect, then feel disappointed when the products arrive.
It can be difficult to tell exactly how window treatments will look if you've only had a chance to view them on a computer or cellphone. If you look at samples in a store, it can be challenging to imagine how they would look in your home or business. A consultation can eliminate guesswork so you can be confident that you're making the best choice. Call Knox Blinds today at (865)544-8339 to schedule an appointment!