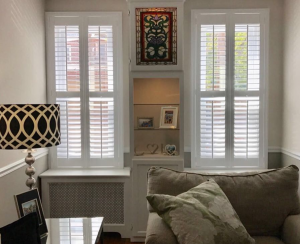 Why waste time driving from store to store searching for the best blinds and shutters when you can shop at home with Knoxville Blinds and Shutters? We sell the blinds and shutters Mascot TN residents trust. Here are three reasons our customers choose to shop at home for their shade, blind, and shutter needs.
3 Reasons to Shop at Home for Blinds and Shutters Mascot TN
1. We work with your schedule.
We understand our customers have busy schedules, so we make it easy to shop at home anytime during the week. We're happy to schedule after-hour appointments to meet your needs. Our main goal is that our customers feel comfortable and stress-free. We believe decorating your home should be fun, and our blinds and shutters Mascot TN team makes it not only enjoyable but easy!
2. We bring our variety of options to you.
Aluminum, hard wood, cloth, bamboo… These are just a few of the many materials we have available. The variety can seem overwhelming, but don't worry! You won't have to make the decision alone. Our blinds and shutters Mascot TN experts will help you choose the best fit for your home or office, keeping your budget in mind. We bring a variety of options into your home and work with you to select the style that meets your needs.
3. You don't pay unless you like what you see!
Our home consultation is completely free. We're certain that we can help you find the perfect look for your home or business, but if we can't, you don't have to pay a dime. Our main objective is to get to know you and your home so that we can provide you with the best recommendations possible.
Let's Get Started!
Ready to shop at home for blinds and shutters, Mascot TN? Contact us to set up your free in-home consultation today!