If you think blinds, shutters, and shades are only for the home, you are wrong. The right window treatments in your office add a touch of sophistication and style. They also serve several practical purposes such as blocking sunlight, controlling temperatures, and maintaining privacy. Are you looking to add a bit of sensible luxury to your workplace? Then look no further than Knox Blinds for shades, blinds and shutters Morristown TN.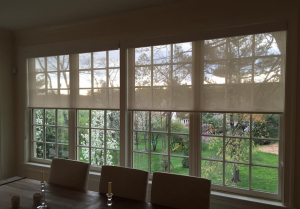 How to Beautify Your Business With Blinds and Shutters Morristown TN
When it comes to dressing up the office, there are a variety of options available. Read below for three ways to beautify your business with blinds and shutters Morristown TN.
Save Energy With Solar Screen Roller Shades
Are you looking for a modern, energy-efficient option for your office? Solar screen roller shades are a popular window treatment option in commercial settings. This is because they help control temperature, save energy costs, and allow natural daylight while decreasing direct sun glare which can damage office furniture and computer screens.
Get Budget-Friendly Style With Faux-Wood Blinds
When thinking about shades, blinds and shutters for your office, faux-wood blinds may not be the first to come to mind. But why not step outside the box? Faux-wood blinds have the attractive appearance of hardwood blinds but are a fraction of the price. They also have a great lifespan due to their heat and humidity resistance. These features make them a unique and practical option for any home or business.
Add a Touch of Elegance With Interior Shutters
Interior shutters are a fantastic way to add timeless ambiance and elegance to a room. Shutters can truly make your office feel like a home away from home. Interior shutters can also save on energy by keeping the cold and heat from outside from entering your office. When it comes to window treatments, interior shutters are one of the most durable, long-lasting, and stylish options.
Let's Get Started!
Ready to find the best commercial shades, blinds and shutters Morristown TN has to offer? Contact us to set up your free consultation today.