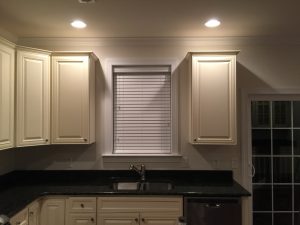 An expert opinion is an invaluable resource, but far too often, knowledgeable advice comes at a hefty price. At Knoxville Blinds, we don't want to put up any barriers between you and the best window treatments for your home. When searching for a free in-home consultation for blinds, you can trust the team at Knoxville Blinds to guide you every step of the way.
We understand that it's not easy to pick the right window treatments based on a photo, so our team will visit your home for free and bring a wide range of samples to help you choose a stylish window treatment to transform your space. Call 865-544-8339 to schedule your free in-home consultation.
Choosing the Right Window Treatment for Your Home
The location of your windows will be your guiding light throughout the process of choosing your blinds. Different materials can thrive (or fail) based on the environment of a given space. For example, wooden blinds inject classic elegance into any room, but the high humidity in rooms such as kitchens or bathrooms will cause damage to your new window treatment. In these rooms, it's best to opt for faux wood, vinyl, or polymer instead.
Here are several other factors you should consider when choosing your new blinds:
Hard-to-reach windows. Windows that are just out of your reach will quickly turn into a daily headache as you wrestle with cords and intricate locking mechanisms throughout the day. These windows could benefit from a set of motorized blinds.
Insulation. Whether you live in a hot or cold climate, blinds that help insulate your home will lower heating and cooling costs by insulating your home's indoor temperatures from the changing climate outside.
Safety. The cords on some blinds can pose a safety hazard to young children and pets. In these cases, you should consider investing in streamlined cordless blinds or shades.
Schedule Your Free In-Home Consultation for Blinds Today!
The team at Knoxville Blinds has years of experience installing high-quality blinds. We will help you choose the best window treatments to fulfill your needs and complement your existing interior design. Call 865-544-8339 to find out more.