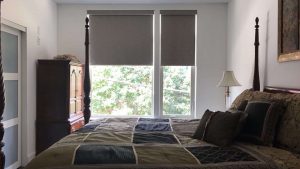 The sun's rays will do more than just leave you squinting. Sun exposure has been shown to damage furniture, fade clothing, and discolor fabrics. At Knoxville Blinds, our advanced window treatments will shield your home against glare (in style!). In this article, we explore the benefits of investing in high-quality light-blocking roller shades.
Our goal is to help you find a stylish window treatment that covers all your needs, from privacy to shade to design. As part of our free in-home consultation service, we will visit your property, assess your space, and provide our suggestions on the best covering for your home or office. Call us today at 865-544-8339 to schedule a visit from one of our blinds professionals.
Light Blocking Roller Shades: Where to Start?
While traditional roller shades are made from thinner fabrics, light-blocking varieties are spun from a more rugged, opaque material. Often referred to as blackout roller shades, this design excels at blocking out the sun's rays. It also helps insulate your spaces, which is ideal in summer (or winter) when you want to maintain comfortable indoor temps.
More advanced options, such as Solar shades, are made from a material that reflects and absorbs UV rays. These window shades will still let in a glimmer of natural light. At the same time, they minimize glare and protect your furniture, artwork, carpets, and clothing against fading.
At Knoxville Blinds & Shutters, our selection of window treatments includes several light-blocking options. Each style is available in a range of colors, patterns, and fabrics. This gives you complete control over the look of your new covering. Whichever option you choose, you will have peace of mind knowing that your shades are engineered to last.
Our blinds professionals will visit your property, bringing along product samples of some of our top light blocking roller shades. It's a chance for you to see these window treatments in person, giving you a good sense of which styles work best in your rooms. Our experts will be on hand to answer your questions. They'll provide their recommendations on style, color, and additional features.
Book Your Free In-Home Consultation Today
Whether you want privacy on demand or a way to block out the midday glare when the game is on, we have a window treatment for you. We will combine your vision with our knowledge to give you a window treatment that elevates your space to a new level of style and sophistication. Contact us today at 865-544-8339 to find out more.