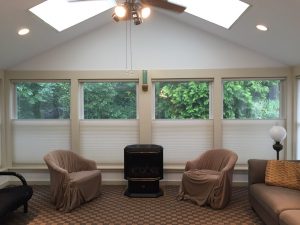 Your rooms are looking tired and uninviting, but you're stumped on how to turn it all around. While you can spend hours agonizing over decor choices, a new window treatment is one of the easiest and quickest ways to transform your rooms. At Knoxville Blinds & Shutters, we've created a new way to shop for (and find) the perfect window treatment. When they need blinds and shutters, Talbott TN residents turn to us for our selection of high-quality products.
You let us know when you're ready to sit down with one of our pros and we'll visit your property with samples of some of our products. It's a chance to see how our window treatments will look in your home, which is all the info you need to find a covering that meshes with your interior design theme and enhances your spaces. Call us today at 865-544-8339 to find out more.
Top Window Blind Designs for 2020
It's a new year and the perfect opportunity to update your home and usher in the new decade with style. The window treatments listed here don't just look the part but are also engineered to give you years of reliable light blocking, privacy, and insulation. Ready to refresh your home's look? Start here:
Roman Shades
When closed, Roman shades will sit flat and flush against your windows, creating a minimalist backdrop that will enhance the appearance of your decor and furniture. But open up this window treatment, and the fabric will stow away in a series of eye-pleasing folds.
It's a beautiful window treatment that has been around for centuries. However, fresh designs have breathed new life into this sun-blocking staple. Our advice: opt for a neutral color, that way you won't limit your decor and furniture choices.
Aluminum Blinds
Once relegated to the grimy windows of stuffy office buildings, aluminum blinds are staging a monumental comeback. New versions of this previously maligned window covering are sleek, durable, and perfect for a spacious modern home or apartment.
Solar Shades
Enjoy natural light without squinting in the sun. Solar shades block the rays but still allow in enough light to flood your home with a warm, cozy glow. Solar shades can be customized to let in or block out as much light as you want. Chat with one of our pros to find out which option is best for your home.
Find Your New Window Treatment Today
A new window treatment is a cost-effective style upgrade that will enhance your rooms, add value to your home, and simplify your life. Contact us today at 865-544-8339 to find out more.