If you live in an area that gets hot summers, keeping heat out of your house as much as possible can let you rely less on your air conditioner and save a significant amount on your utility bills. There are several types of blinds on the market. Here is what you should know about the best blinds to keep heat out.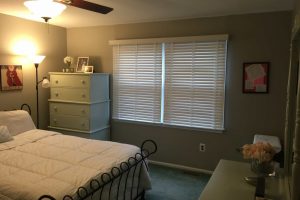 Choose Blinds Made with an Energy-Efficient Material
The material that you select for your window treatments will play a critical role in determining how well they'll block out heat. Blinds crafted with both real and faux wood are energy efficient.
Natural wood is durable, but it shouldn't be used in rooms that tend to have a lot of moisture and humidity, such as bathrooms. Faux wood is more resistant to humidity, and it won't warp or fade after repeated exposure to sunlight.
Select a Design That Will Make It Easy to Keep Heat Out
The size of the slats is another important factor that's often overlooked. The fewer spaces there are where light can get through, the cooler your house will be in the summer.
One of the advantages of blinds is that the slats can be tilted so you can control the amount of light and heat that gets into your house. Making a slight change to the angle of the blinds may be enough to significantly reduce the amount of sunlight, and therefore the amount of heat, that enters your home.
Schedule a Consultation to Learn More about Blinds to Keep Heat Out
If you have questions about specific materials or you'd like to discuss your options in greater detail, a consultant from Knox Blinds can meet with you in the comfort of your home. You'll be able to see samples of the many styles of blinds we offer, learn more about the materials they're made of, and compare them side by side. You'll also be able to hold up samples next to your walls and furniture so you can see how various styles and colors would look in your home. Call Knox Blinds today at (865) 544-8339 to schedule an appointment.