If you've been researching new window treatments for your home, you may have seen advertisements for roller shades and shutters. While they offer some of the same advantages, there are key differences between them. This is what you need to know about roller shades vs. shutters.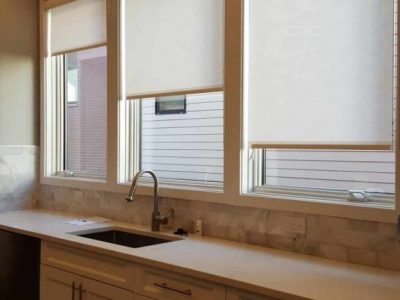 What Are Roller Shades?
Roller shades are crafted with fabric and are available in a wide range of textures and designs. When you raise roller shades, the fabric will sit neatly at the top of the window.
With roller shades, you'll be able to control the amount of light that enters a room, which can make your home more comfortable and can also help you keep your utility bills manageable. You can choose light-filtering roller shades to reduce the amount of light that enters a room or room-darkening shades for an area where you want to block out as much light as possible, such as a bedroom. Roller shades can also protect your furniture, carpet, and artwork from damage caused by the sun's UV rays.
What Are Plantation Shutters?
Plantation shutters are stylish window treatments that can be installed on virtually any type of window. If you choose plantation shutters, you'll be able to adjust them to control the amount of light that comes in through the window and the amount of privacy you have. Knox Blinds offers plantation shutters made with durable vinyl and MDF composites, as well as wood that you can have stained or painted in the color of your choice.
Learn More about Roller Shades vs. Shutters
You may still have questions about the differences between roller shades and shutters, the benefits of each, and which would be the better choice for your home. One of our consultants can answer them and help you make an informed decision.
We can schedule an appointment to have a consultant visit your home at a time that works for you. During the consultation, you'll have an opportunity to view samples of our roller shades and plantation shutters, compare their materials and features, and see how each would look in the context of the room you're redecorating.
Once you have all the information you need, you'll be able to make a final decision. Call Knox Blinds today at (865)544-8339 to schedule an in-home consultation!