Shopping for blinds and shutters Rogersville TN can be challenging. There are plenty of stores and online retailers that offer window treatments, but it can be difficult to figure out if they would work well in your home. When looking at photos online, it can be hard to get an accurate impression of how window treatments look. This is why an in-home consultation can be so beneficial.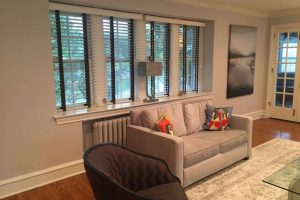 Advantages of Seeing Window Treatments in Your Own Home
If you look at products in a store, you may return home with an inaccurate memory of their color. You may think they will work well in your home, then be disappointed when they're installed.
Viewing samples of window treatments in your house can make it much easier to imagine how they would look in a room. You will be able to hold up samples and see how their colors compare to the colors of your walls and furnishings so you don't make a choice that you will come to regret.
Even if online retailers try to take photos that represent their products well, the texture and weight of a product can be hard to determine from a photo alone. Another common problem is that when people look at pictures of products online, they often find that their monitor's settings cause the colors to look different than they really are.
When customers shop for window treatments online, they're sometimes disappointed when products arrive and look different than they expected. Seeing products in person and being able to touch them will help you assess their color, texture, and quality so you can make an informed decision.
Schedule an In-Home Consultation to Learn about Blinds and Shutters Rogersville TN
Knox Blinds can send a consultant to your house to show you some of the many window treatments we have to offer so you can shop with confidence. You will be able to ask questions and find blinds or shutters that will suit your home's design and décor, as well as your budget.
A consultant can arrange to meet with you at a time that is convenient for you. Call (865)544-8339 to schedule an appointment.