Living in a heavily populated area can give you easy access to stores, restaurants, and entertainment, but it might also mean that you're constantly distracted and frustrated by noise outside your house. If you struggle to concentrate when you work from home or find it difficult to get a good night's sleep, noise reducing window treatments can be an effective solution!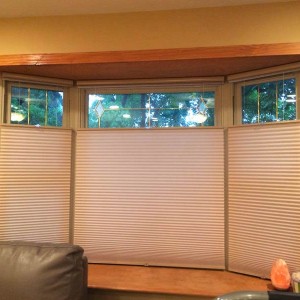 How Can Window Treatments Block out Noise?
Installing new window treatments won't make the interior of your house completely soundproof. The right window coverings can, however, significantly reduce the amount of outside noise that's audible inside your home and let you enjoy more peace and quiet.
Cellular shades, which are also known as honeycomb shades, are designed with a series of insulating pockets. Those spaces can block out heat and cold and save you money on your utility bills, but they can also reduce the amount of noise from cars, construction, and other sources that you can hear inside your house.
Roman shades are another type of window treatment that can make your house quieter. Roman shades are constructed with heavy fabric that can absorb sounds coming from outdoors.
Drapes are a simple and elegant way to beautify your home and reduce the amount of noise you hear. Since drapes are made of fabric, they can effectively absorb sound.
How Can You Choose the Right Noise Reducing Window Treatments for Your Home?
Knox Blinds offers cellular shades, Roman shades, and draperies, plus an array of other window treatments. If you're feeling overwhelmed by all the options and aren't sure which would be best for you, we can help!
One of our consultants can visit your home at a time that fits your schedule to show you samples of our window treatments, explain their benefits, and answer any questions you might have. During a consultation, you'll be able to handle samples and see their quality for yourself.
You'll also get an opportunity to see how various styles and colors would look in the room where you're thinking about installing them. That can help you be sure that you're making the right choice. Call us today at (865) 544-8339 to schedule an appointment!