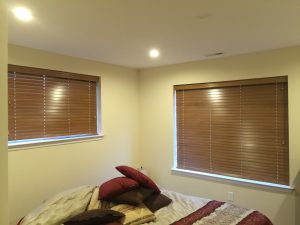 With smooth transitions from shaded to sun-splashed, motorized blinds are mechanical wizardry. The real magic here: Using high-quality materials to construct every component, ensuring your window treatment serves its purpose for years to come. At Knoxville Blinds & Shutters, we provide window treatments that are equal parts stylish, functional, and convenient. When searching for a company specializing in motorized blinds, Jefferson City TN residents turn to the team at Knox Blinds.
We offer a wide variety of high-quality materials, from cost-effective aluminum and faux woods to beautiful genuine hardwoods. Don't know where to start? We can schedule a free on-site consultation that suits your busy schedule.
Our team can visit your home with product samples to help you choose the best solution for your needs. Call 865-544-8339 to get started.
The Magic Behind Motorized Blinds
Motorized blinds mirror conventional corded blinds in style, shape, and color. However, these window treatments leverage the power of a small but powerful motor to control the influx of natural light. The result: no more manual labor. Plus, you can use a remote – and sometimes even a smartphone app – to control the slats.
Your blinds' motor is powered by either connecting the component to your home's circuitry, a battery, or a solar panel. The ideal powering method depends on the size of the window, the layout of your room, and your personal preferences.
However, not all motors are made equal. Besides being louder, low-quality motors can also be unresponsive and brittle. Fortunately, at Knoxville Blinds & Shutters, our window treatments are constructed using only the highest-quality materials. During our free on-site consultation, our team will advise you on which window treatments and setup will best benefit your home or business.
Call Now for Motorized Blinds Jefferson City TN Residents Recommend!
Now that you know how they work, it's time to make these motorized blinds work for you. At Knox Blinds, we can combine your vision and imagination with our knowledge to choose window treatments that suit your exact needs. Call us today at 865-544-8339 to schedule your free consultation and discuss your interior design goals.