Selecting new window treatments for your home can be a complicated and confusing process. It can be even more difficult if you're looking at products in a showroom or online and trying to figure out if they would work in your home. That's why you should call Knoxville Blinds & Shutters to schedule an in-home blind consultation.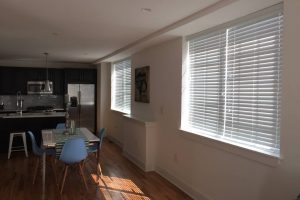 Understand Exactly How Products Look and Feel
Often, consumers look at window treatments on a website and order them, then discover that the products don't look the way they seemed online. Lighting can affect the way a color appears. Other features, such as the weight and texture of materials, can be difficult to discern from a photo. An in-home consultation can give you an opportunity to see and hold products so you can know how they look and feel before you place an order.
Figure Out What Will Work Best in Your Home
When looking at blinds in a store or online, it can be hard to envision how they would look in your home. Even if you take photos in a showroom or look at images on a website and hold them up next to your furniture, it can still be difficult to truly know if a particular type of window treatment would work well in your home. Subtle differences in color can make a big difference in the overall effect. Textures and other factors may turn out to be more important than you expected. Looking at products in your own home and being able to make direct comparisons can help you shop with confidence.
Stick to Your Budget
We understand that price is a concern for homeowners and want you to make the right decision. A consultant can work with you to choose blinds that will serve you well and enhance your home's appearance without requiring you to spend more than you can afford.
Schedule an In-Home Blind Consultation
Meeting with a consultant and reviewing products in your home can eliminate a lot of guesswork and help you select new blinds with confidence. Call us at (865)544-8339 to make an appointment to meet with a consultant at a time that is convenient for you.