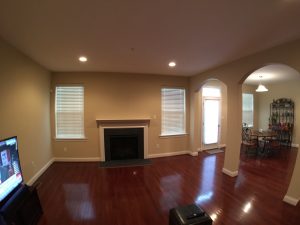 Your window treatment shouldn't leave you all tied up when it's time to block out the midday glare. That's why countless home- and business owners are leaving the hassle of tangled cords behind and switching to a quality set of motorized blinds. At Knox Blinds, our window treatments are both easy to use and durable, providing long-lasting convenience and elevating your space. When searching for the perfect set of motorized blinds, Rockford TN residents trust Knoxville Blinds.
No matter how crazy your schedule, we can find a way to set up a free in-home consultation to help you choose the best window treatment for your space. Call 865-544-8339 to discuss your project with one of our experts.
Until then, read on to learn about just some of the big benefits of motorized blinds:
Efficiency
The right window treatment will do far more than just block out pesky glare during the brightest parts of the day. The sun's rays can also heat up your home, forcing your air conditioner to work overtime as it battles the rising temps. The result: a sky-high electrical bill at the end of the month.
High-quality motorized blinds can be programmed to close at certain times of the day to help regulate the temperature of your home. Some window treatments can even be controlled from your smartphone, enabling you to react to changing weather conditions with just a tap on your touchscreen.
Convenience
Whether you're struggling with windows that are too tall to reach or just tired of fighting with tangled cords and faulty locking mechanisms, motorization takes the fuss out of controlling your window treatment. With just the push of a button, you can open and close your motorized blinds from anywhere in the home.
Safety
Dangling cords pose a serious strangling risk for young children and pets. Fortunately, motorized blinds eliminate the need for traditional control mechanisms, keeping your little ones and four-legged friends safe from harm.
Motorized Blinds Rockford TN Residents Recommend!
Reap the rewards of a quality set of motorized blinds with a window treatment and installation from Knoxville Blinds. Our years of experience designing and setting up custom window treatments enable us to provide you with expert advice on choosing colors, style, and features. Call 865-544-8339 today to set up a free consultation.