If you're interested in having new blinds installed in your home, you will have to choose a material carefully. Wooden window shades and blinds are popular for a number of reasons.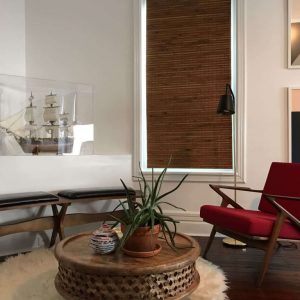 Why You Should Consider Wooden Window Shades and Blinds for Your Home
Woven wood shades can help you control the amount of light that enters a room and provide you with privacy when you need it. Woven wood shades can be a good choice for virtually any part of your home.
Blinds made with real wood are durable and capable of standing up the stresses of daily use. If you have young children and/or pets, your window treatments will most likely get exposed to additional stress. That makes it even more important to select a durable, long-lasting material. Real wood fits the bill.
Wood blinds can provide additional insulation around windows and prevent heat transfer. That means your home will stay warmer in the winter and cooler in the summer, and you will be able to enjoy lower utility bills throughout the year.
Homeowners also choose wooden blinds because they're attractive. Real wood can be painted and stained in a wide range of colors to fit a room's décor.
Faux wood blinds look virtually identical to blinds made with real wood, but faux wood offers some distinct advantages. Blinds crafted with faux wood are better at resisting moisture damage than blinds made with real wood. That means that faux wood blinds are a better choice for rooms that frequently have high levels of humidity, such as the kitchen and bathrooms.
Faux wood blinds are crafted with composite materials. That makes them durable and resistant to breaking, cracking, warping, and bending.
Meet with a Consultant to Learn More about Wooden Window Shades and Blinds
If you're shopping for new window treatments and you would like to learn more about the advantages of wooden window shades and blinds, you can schedule a consultation with Knox Blinds. During the meeting, you will have an opportunity to look at samples of our wooden window shades and blinds, ask questions about them, and see how they would look in your house. Call us today at (865)544-8339 to schedule a free in-home consultation.