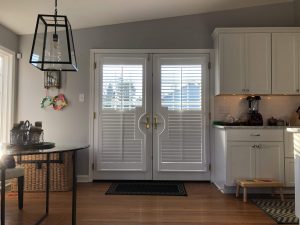 Patio door windows give you easy access to your outdoor space with just the slide of a panel. But during the day, these large panes can flood your home with unwanted heat and light, spiking your A/C running costs and damaging your wooden floors and furniture. The pros at Knox Blinds can help you handpick patio door window treatments that are stylish, easy to use, and won't trip you up when it's time to head out.
We believe that shopping for a new window treatment shouldn't be a painful process. Our experts can bring the store to your front door, visiting your home with samples of the many high-quality blinds, shades, and shutters we offer. Find the perfect solution today – contact 865-544-8339 to speak to one of our pros.
Need inspiration? We've compiled a list of a few exciting patio door window treatment ideas to spark your imagination:
1. Cellular/Honeycomb Shades
Honeycomb shades let you play with texture and color, resulting in a window treatment that complements and enhances your home's architecture and interior design elements. But these customizable shades aren't all form and no function. Cellular shades are made up of small pockets of fabric engineered to trap air and prevent indoor or outdoor air from traveling through your window. As a result, you'll be able to maintain comfortable temperatures in your home without overworking your heating or cooling system.
2. Vertical Blinds
This window treatment is a functional solution that slides in the direction of your patio door windows to give you easy access to your outdoor living space. Our vertical blinds are available in a wide variety of materials, from modern, sleek aluminum to classic hardwoods and faux woods. Our pros will evaluate your space and help you choose vertical blinds that best suit your home or office space.
3. Plantation Shutters
This classic window treatment can be rigged to slide horizontally, giving you the same functionality as modern solutions while keeping this timeless aesthetic intact. Our plantation shutters are manufactured to give you the maximum lifespan you'd expect to receive from a high-quality window treatment. As a result, you can enjoy peace of mind knowing that your new covering will serve its purpose for years to come.
Contact Us for Expert Advice on Patio Door Window Treatments
Whatever your budget and needs, you can count on our experts to find a window treatment that works for your space. Call 865-544-8339 to find out more.