Choosing the right window treatments is one of the most important decisions you may have to make as a homeowner. Window coverings can control the amount of light that enters your home, protect your family's privacy, and affect your home's aesthetics. If you're looking for new blinds and shutters Lanier TN, check out the huge selection at Knox Blinds.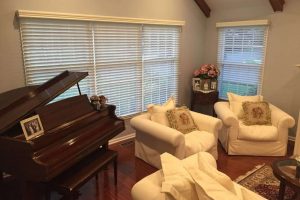 Types of Window Treatments We Offer
We sell blinds made from several materials, including real hardwood, faux wood, and aluminum. All our blinds are expertly crafted and built to last. If you purchase window treatments from Knox Blinds, you can be confident that you are getting excellent value, as well as beautiful style.
Shutters are another popular choice among Lanier TN homeowners. Knox Blinds offers plantation shutters that are suitable for virtually any window style, from casements to sliding glass doors.
Some of our shutters are made with vinyl and MDF composites. We also offer shutters crafted with real wood that can be painted or stained. Our plantation shutters have mortise and tenon joints to protect them from damage that can be caused by opening and closing.
Learn More about Blinds and Shutters Lanier TN
We understand that the process of selecting window treatments can feel overwhelming. With so many companies offering a wide range of styles and products made from various materials, it can be difficult to know which would be best suited to your home's design and décor and your family's needs.
That is why Knox Blinds offers free in-home consultations. A consultant can arrange to meet with you at your house at a time that is convenient for you. The expert consultant can show you some of the products we offer and discuss your needs to help you make an informed decision.
Many homeowners prefer meeting with a consultant at home over shopping in a store or online. When you look at products in a showroom or on a computer screen, it can be difficult to envision how they will look up against the color of your walls and next to your furniture. Seeing products in your home can make the selection process easier and less likely to result in disappointment. Contact us today at (865) 544-8339 to schedule a consultation.