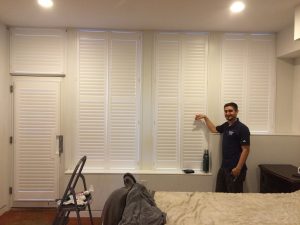 An expert opinion is vital to choosing the right window treatment, but more often than not, this valuable advice can cost a small fortune. At Knox Blinds, we are passionate about helping homeowners make informed decisions, and we don't charge for it. When searching for a free in-home consultation for blinds and shutters, Melrose TN residents know they can trust our crew to guide them every step of the way.
We believe that shopping for a new window treatment – whether you want to install plantation shutters, motorized blinds, roller shades, or another design – should be an enjoyable experience from start to finish. A member of our team will visit your home, bringing along samples of our stylish offerings to help you choose the perfect designs for your space. Call 865-544-8339 today to schedule your free in-home consultation.
How to Choose the Right Window Treatment for Your Home or Office
When picking a new set of blinds, shutters, or shades, you need to consider where this window treatment is being installed. Various materials can thrive or fail based on the conditions of a given room. For example, a set of wooden shutters may not be suitable for high-humidity spaces such as your bathroom or kitchen. Instead, it's best to opt for a vinyl, faux wood, or polymer alternative.
You should also take into account the following factors:
Insulation. While your walls may be insulated, your windows will still let in hot or cold air throughout the day. If you're trying to maintain consistent temperatures inside, this influx could push your A/C or heating system over the edge. Certain window treatments such as cellular shades are designed to insulate your indoor spaces, helping you keep running costs low.
Style. Aluminum blinds will shine in a modern home, but if your aesthetic leans more classical, this window treatment will stick out like a sore thumb. Our pros can provide recommendations on shades, blinds, or shutters that will complement and enhance your home's architecture and décor.
Convenience. Tech advances have unlocked a new world of convenience for home- and businessowners alike. Motorized blinds cut the dangling cords in favor of quiet motors that will open and close your window treatment with just the push of a button.
Blinds and Shutters Melrose TN Residents Recommend
With decades of experience, the pros at Knoxville Blinds and Shutters can help you find the perfect window treatments for your home. Call 865-544-8339 to get started today.