In the summer, sunlight streaming in through the windows can make your home uncomfortably hot. That can force you to rely on your air conditioner more than you would like, which can result in high electricity bills. The right window treatments can solve that problem. Choosing blinds that completely block out light can keep your home at a moderate temperature and help you enjoy lower utility costs.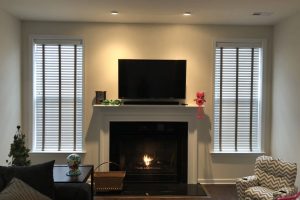 Why You Should Think about the Width of the Slats
Blinds have a series of slats that allow you to regulate the amount of light that enters your home. The slats can be laid flat to block out sunlight and give you complete privacy, or they can be angled to allow some light in and let you see what's going on outside your house.
Slats come in a variety of widths. The spaces between slats can allow light to leak in. When it comes to light control, the size of the slats is important.
Blinds with narrow slats can do a good job of blocking out sunlight when they're closed completely. That can result in lower costs for air conditioning. If being able to see outdoors is also important to you, you may want to select blinds with wider slats. You will be able to angle them to control the amount of light that enters your home.
When shopping for blinds, it's important to consider the size of a window along with the size of the slats. If you install blinds with small slats on a large window or blinds with large slats on a small window, they will look out of proportion.
Get Expert Help Choosing Blinds That Completely Block out Light
Knox Blinds offers blinds in a variety of sizes and styles that are made with aluminum, faux wood, and real wood. We understand that selecting window treatments can be confusing, which is why we have a team of consultants. One of them can meet with you in your home to discuss the blinds we offer, answer your questions, and help you choose the window treatments that are best for your home and budget. Call (865)544-8339 to schedule a consultation.