Homeowners who are looking for new window treatments are often drawn to the beauty of wood blinds. Faux wood blinds are another option worth considering. They offer some of the advantages of wood, plus other benefits that wood can't provide. One of the most common questions that homeowners have is, what are faux wood blinds made of?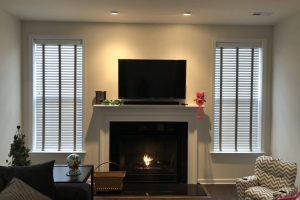 What Types of Materials Are Used to Make Faux Wood Blinds?
Faux wood blinds can be crafted with several materials. PVC, composite, foam wood, and vinyl are some of the most common. Faux wood blinds have a grain pattern that makes them closely resemble real wood. They can be painted or stained in a wide array of colors to complement the décor in any room.
What Are the Benefits of Faux Wood Blinds?
Blinds made of faux wood offer the aesthetic of wood, but at a lower price point. If you like the look of wood, but you're on a tight budget, faux wood blinds can give you the best of both worlds!
Faux wood blinds are more resistant to moisture than blinds made of natural wood. That makes faux wood blinds a better choice for rooms that tend to have high levels of moisture and humidity, such as the kitchen and bathroom.
Another advantage is that faux wood is more flexible than natural wood. That means faux wood blinds are less likely to warp and crack than blinds made of real wood.
It's easy to care for faux wood blinds. If they get covered with dirt or dust or get splattered with food residue in the kitchen, you can wipe them clean and use a household cleaner as necessary.
Where Can You Buy Quality Faux Wood Blinds?
If you've begun looking for new window treatments, you've probably realized that a large number of brick-and-mortar and online retailers sell blinds. They can vary widely in terms of quality. Knox Blinds sells window treatments that are made to last.
A consultant can come to your house at a time that's convenient for you to show you samples of our products, discuss what are faux wood blinds made of, and answer any questions you might have. Call us today at (865) 544-8339 to schedule an appointment!