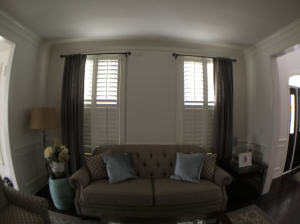 If you're having trouble finding the perfect window treatments, you're not alone. From slat width to color to style and material, there are numerous factors to consider—but it's impossible to tell how shutters or blinds will look in your home without seeing them firsthand. At Knoxville Blinds, we set out to solve this problem by offering home- and business owners the opportunity to have samples delivered directly to them for free. When shopping for blinds and shutters, Jefferson City TN locals turn to our company for convenience and unparalleled selection.
We are dedicated to providing exceptional customer service and helping people find the perfect window treatments to match their interior design theme and personal tastes. Our specialists can evaluate your existing interior and provide expert recommendations. Call us today at 865-544-8339 to learn more.
Shutters, Blinds, or Shades—Which Is Best for Your Home?
Choosing window treatments might seem like a minor decision, but your blinds, shutters, and shades can have a profound impact on the look of your indoor space. Before you compare materials, styles, and colors, the first step is to determine which types of window treatments would be the best fit for your needs.
All three options—shades, blinds, and shutters—provide privacy and give you control over room lighting. But each has a unique aesthetic, and there are functional differences to consider.
How would you describe your interior design theme? In what room do you intend to use the window treatment? What is the color of your furniture and architectural elements? These are just a few questions our window treatment specialists will ask when helping you determine whether shutters, blinds, or shades would be the best fit for your home.
The only surefire way to know if a particular window treatment will work cohesively with your existing interior is to see it in person. This is where Knoxville Blinds & Shutters can help.
Contact Us Today to Discuss Blinds and Shutters in Jefferson City TN!
With a variety of materials and designs to choose from, Knoxville Blinds has become the preferred provider of blinds and shutters in Jefferson City TN. To speak with a member of our team, call us today at 865-544-8339, or fill out our Contact Form.