For many families, the kitchen is the room that gets the most use. It's a place to cook and eat meals, socialize, and do homework, among other things. Selecting the right window treatments is one way to create a kitchen that's both functional and attractive! Here are some things that you should know about the different types of blinds for kitchen windows.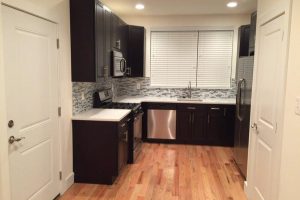 Best Types of Blinds to Use in the Kitchen
Steam from cooking can make the kitchen a humid environment, so you need blinds that won't get damaged by moisture. Faux wood offers the aesthetic appeal of wood, without the risk of having blinds get warped by repeated exposure to moisture.
Faux wood blinds are also easy to clean. If the blinds are located in an area where they frequently get splattered with grease and grime, you'll be able to quickly wipe them off as needed.
Aluminum blinds are durable and simple to care for. They're also resistant to moisture, which makes them a good choice for the kitchen. Aluminum blinds are available in a wide array of colors to suit any décor.
Why You Should Buy Window Treatments from Knox Blinds
Lots of companies sell blinds, but they vary widely in terms of their quality. Some window treatments break or wear out easily and have to be replaced soon after they're installed. At Knox Blinds, we sell window treatments that are made with high-quality materials. You can be confident that blinds that you purchase from us will last for years.
Buying new blinds in a store or online might seem easy and convenient, but homeowners often find that those approaches lead to problems. You might see a set of blinds in a showroom and think they would be perfect for your home, but when you have them installed, you might realize that they don't look the way you envisioned. Purchasing window treatments online can also lead to unpleasant surprises because a photo might not clearly reflect the way that blinds look.
Learn More about the Different Types of Blinds for Kitchen Windows
Selecting new window treatments can be challenging. That's why Knox Blinds offers free in-home consultations. You'll have an opportunity to look at samples of our blinds, see how they look in your kitchen, and ask questions. Contact us today at (865)544-8339 to schedule a consultation at a time that works for you.