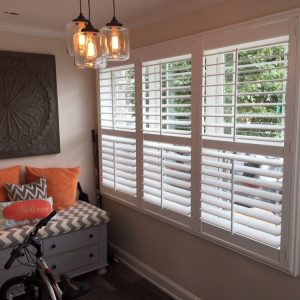 If you're struggling to find the right window treatments for your home, you're not alone. From colors to slat width to materials and style, there are countless factors to consider, and it can be difficult to tell how shutters or blinds will look in your spaces without seeing them firsthand. At Knoxville Blinds & Shutters, as part of your free in-home consultation, our pros will bring samples of our products to your front door. When shopping for stylish blinds and shutters, Oliver Springs TN residents turn to Knox Blinds for a simplified approach to finding the perfect solution.
At Knox Blinds, our pros have made it their mission to help homeowners find beautiful window treatments that complement their interior design themes and match their personal tastes. We will evaluate your rooms and provide expert advice on how best to enhance your spaces with the right window treatments. Contact us today at 865-544-8339 to find out more.
Choosing the Right Blinds, Shades, or Shutters for Your Home
Before you start thinking about styles, materials, and colors, you need to consider which types of window treatments will best suit your needs. While both options – blinds and shutters – will give you precision control over your room's lighting and provide privacy throughout the day, each solution has a unique aesthetic that can either complement or clash with your home's interior design themes.
Ask yourself: In what room are you planning to install this window treatment? How would you describe your interior design theme? Classical or minimalist? Are the windows hard to reach? These are just a few examples of questions our window treatment specialists will ask when helping you choose blinds or shutters during your free in-home consultation.
With our samples, you can see these window treatments in person, making it easy to find a solution that will work cohesively with your existing interior.
Blinds and Shutters Oliver Springs TN Residents Love
Browse through high-quality window treatments from the comfort of your home with help from the pros at Knox Blinds. Our team will provide recommendations on the best shutters or blinds for your space and help you find a solution that meets your highest standards. Call 865-544-8339 to schedule a free in-home consultation.