If you're searching for new window treatments, you may find that roller shades are the best option for your home. They can filter light, darken a room, and block the sun's UV rays. Contact Knoxville Blinds & Shutters to learn more about modern roller shades window treatments.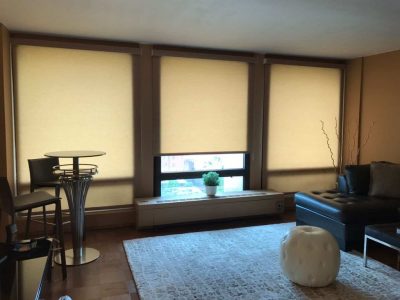 Keep Your Home Cooler and More Comfortable
Your house may have windows in areas that get a lot of sunlight at certain times of the day. That may cause a room to get unbearably hot and lead to high air conditioning bills in the summer. Intense sunlight can also damage furniture, carpet, hardwood flooring, and artwork. Roller shades can block out the sun's UV rays and reduce the amount of heat that enters a room.
Enhance Your Home's Appearance
Roller shades have a simple design and can be an attractive addition to your living room, kitchen, family room, or bedroom. If you prefer minimalism when it comes to window treatments, roller shades may be an excellent choice. If you would like to dress things up a bit, you can use other window treatments above roller shades.
Choose Window Coverings That Are Easy to Use and Maintain
You can choose roller shades that are motorized and can be adjusted with a remote control. That may be an excellent option if you have one or more tall windows, if you have limited mobility, or if you just don't want to deal with the hassle of adjusting shades manually throughout the day as the position of the sun changes.
Roller shades require less maintenance than some other types of window treatments. They gather less dust and pet hair than other window coverings and are easier to clean. Roller shades are also protected by a headrail to prevent damage.
Meet with a Consultant to Explore Your Options
Knoxville Blinds & Shutters installs modern roller shades window treatments in a variety of designs, patterns, and textures to suit your needs and your home's décor. We know it can be difficult to choose window treatments in a showroom or from a website, which is why we offer free in-home consultations. A consultant can show you the products we offer, explain the differences between them, answer your questions, and help you make a decision. Call us today at (865) 544-8339 to schedule a consultation.