Selecting new window treatments isn't as simple as it might initially seem. Homeowners often feel overwhelmed when they start to do a little research and realize how many companies sell window treatments and how many styles and materials are available. A consultant from Knox Blinds can tell you what you need to know about blinds and shutters Halls Crossroads TN!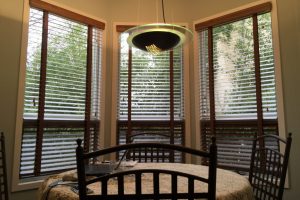 Window Treatments That Knox Blinds Offers
We sell blinds and shutters crafted with several materials. You can choose blinds made with real or faux wood or aluminum. If you're interested in plantation shutters, you can select models made with vinyl and MDF composites or real wood.
Each material has its pros and cons, but all our products are durable and made to last for several years. No matter which window treatments you select, you can be confident that you're making a smart long-term investment.
Benefits of an In-Home Consultation
You can have a consultant visit your house at a time that's convenient for you. During the consultation, you'll get to inspect samples of our blinds and shutters Halls Crossroads TN and see their quality for yourself! That's impossible to do when you're shopping online, and it can also be a challenge when looking for new window treatments in a store showroom.
The consultant will answer your questions and help you figure out which material will best suit your needs. For instance, some materials can get damaged by moisture, so they're not suitable for humid areas, such as the kitchen and bathroom. Knowing those sorts of things ahead of time can help you avoid making a purchase that you'll come to regret.
Perhaps the greatest advantage of an in-home consultation is that you'll get to see window treatments in the room where you're thinking about putting them. It's difficult to envision how products will look in your house when you're viewing them in a store. Shopping online can make things even more challenging since the colors that you see on your screen might not reflect the way that window treatments actually look.
An in-home consultation can help you be sure that you're choosing the right window treatments. Contact Knox Blinds today at (865) 544-8339 to schedule an appointment!