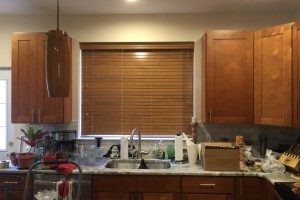 Without expert guidance, finding the right shades, blinds, and shutters for your home or business can feel like looking for a needle in a haystack. There are near-infinite combinations of styles, colors, and materials to choose from, leaving you with thousands of options and no apparent solutions. At Knox Blinds & Shutters, our pros know how to choose window treatments that will complement your décor and enhance every square inch of your indoor space.
We understand it's difficult to settle on a set of blinds or shutters based on nothing more than a picture. When we visit your home, we will bring along samples of our custom window treatments to help you find the right style, material, and colors for your space. Our pros can also provide recommendations on a solution that suits your design needs and budget. To get started, call us today at 865-544-8339.
3 Tips for Choosing the Right Window Treatment
Enhance your indoor space with our style advice on finding the perfect window treatment for any home:
1. Match the Material to Your Space
Genuine wooden blinds won't fare well in bathrooms or small kitchens, where high levels of humidity can cause the natural material to rot or degrade. Our selection of high-quality shades, shutters, and blinds are available in a wide variety of different materials, including faux woods and aluminum.
2. Invest in Insulation
Rooms exposed to harsh sunlight during the day require window treatments that provide advanced insulation. Our cellular shades are designed to trap pockets of air, forming a wall of insulation to prevent heat from filtering into your rooms. The result: Your home will stay cooler when the mercury rises, helping you keep your A/C running costs down.
3. Complement Your Furniture
With our wide variety of materials and colors, it's easier than ever to find a window treatment that matches your existing furniture. For example, you can create a muted backdrop for your home's bright décor by installing solid color roller shades.
Get More Advice on How to Choose Window Treatments
The pros at Knox Blinds have the knowledge and experience to help you handpick blinds, shutters, or shades that will elevate any space. Call 865-544-8339 to schedule a free in-home consultation.