If your utility bills tend to skyrocket in the summer, you're probably thinking about how to control costs while keeping your house cool. You may be wondering, Do blinds keep heat out? Blinds can be a simple and effective way to control the temperature in your house and save money.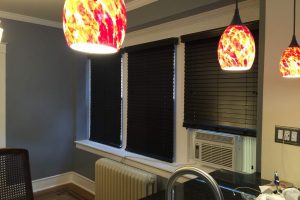 How Blinds Can Help You Stay Comfortable in the Summer
When the sun shines directly in the windows on a hot summer day, the interior of your house can become unbearably hot. Your air conditioner then has to work harder to keep the house at a comfortable temperature, which can cause your electricity bills to jump well above the amount you pay during the rest of the year.
Limiting the amount of heat that enters your house can reduce the burden on your AC and help you keep your utility bills in check. Blinds can block sunlight and dramatically reduce the amount that the sun warms the interior of your house.
How Do Blinds Keep Heat Out?
For blinds to do their job, they have to be closed at appropriate times. During the hottest parts of the day, from late morning through the afternoon, you should keep the blinds closed to prevent or reduce solar heat gain. When the sun is no longer at its strongest, you can open the blinds again.
The position of each room is also important. The sun will shine into different rooms at different times, depending on the side of the house where each room is located. You may have to open and close blinds at different times based on the direction that each room faces and the position of the sun at that time.
Get Help Choosing the Rights Blinds for Your Home
You may have questions about which type of blinds are best for your house. A consultant from Knox Blinds can help you make an informed decision. We can arrange to have a consultant meet with you at your home to show you samples of our blinds, discuss their features and benefits, and answer your questions. Call Knox Blinds today at (865)544-8339 to make an appointment.