If you're searching for new window treatments for your house or office, you want them to be attractive, durable, and easy to maintain. You also want them to help you keep the interior at a comfortable temperature so you don't have to spend a fortune on air conditioning and heating.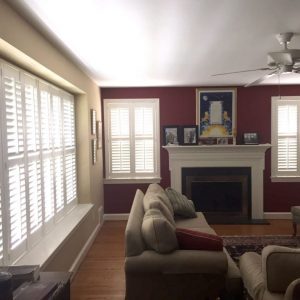 Knox Blinds offers several types of window treatments that can work well in a home or office. A member of our team can show you samples of our blinds and shutters Tallasee TN and help you make a decision!
Learn about Window Treatments from Knox Blinds
We offer blinds crafted with real hardwood and faux wood. Natural wood is strong and beautiful, but it's also susceptible to damage from moisture. Faux wood can be a better choice for a place like a kitchen or bathroom. You'll get to enjoy the look of wood, without having to worry about the effects of moisture.
Aluminum is another popular material for blinds. It's sleek, attractive, and easy to clean. Our aluminum blinds can be a stylish addition to your home or office!
Customers often choose plantation shutters because they're durable and stylish. We offer shutters made with real wood, as well as MDF composite and vinyl.
One reason why so many people select shutters is that they can be installed on virtually any type of window. They can also be used with French and sliding doors to control light and temperature in a home or office.
Find the Right Blinds and Shutters Tallasee TN
You might still have questions about different types of window treatments and materials, or you might need help figuring out which would work best in your home or office. We understand that selecting the right window treatments is difficult. We also know that it's a significant investment, so you want to be sure that you're choosing the right type of product, material, and style.
That's why Knox Blinds provides free consultations! We can schedule an appointment to have a consultant visit your home or business at a time that's convenient for you. During the consultation, you'll get to inspect samples of our blinds and shutters, have all your questions answered, and get professional advice on which window treatments will best suit your needs. Call (865) 544-8339 today to schedule an appointment!