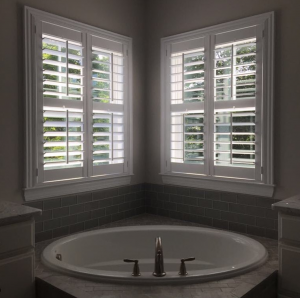 Not long ago, your only options for window treatments were the scarce inventory at your local home improvement store. Although the Internet has opened the door to limitless choices, it's impossible to know which blinds and shutters would look best in your home without seeing them firsthand. Knoxville Blinds has changed the game entirely by bringing window treatment samples to our customers' homes for free to help them make the perfect pick. For blinds and shutters, Elza TN homeowners turn to our knowledgeable team for unmatched convenience and exceptional customer service.
We will combine your vision and imagination with our expertise and knowledge to identify the very best window treatments for your indoor space. Backed by years of experience, our team can help you sift through the options to choose the right color, features, and style to match your interior design theme. Call 865-544-8339 today to learn more.
What Are the Best Materials for Blinds and Shutters in Elza TN?
Shutters and blinds come in a variety of materials and in many cases can be customized to fit your personal tastes. Our inventory incudes plantation shutters made from wood as well as a variety of vinyl and MDF composite grades.
Both wood and vinyl have pros and cons. Wood can be painted and stained to match your existing decor. It also has a timeless look. Vinyl tends to be more durable, and it does not have to be treated to resist termites and fungus.
Our blinds come in faux-wood, aluminum, and hardwood. While aluminum offers a new-age, sleek look, hardwood and fauxwood offer a more natural aesthetic.
Besides your personal preferences and the look of your existing interior, it is also important to consider the room where you will be using the window treatment. For example, wood blinds and shutters might not be the best choice in bathrooms due to steam.
Get Help Choosing Blinds and Shutters in Elza TN
The pros at Knoxville Blinds will assess your interior design goals and help you choose the perfect window treatments. Call us today at 865-544-8339 or fill out our Contact Form to learn more.