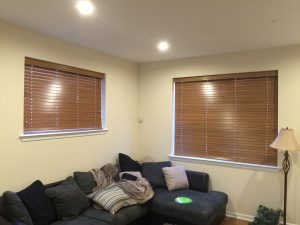 Large windows open your home to the bright side of life. But when morning glory turns into midday glare, you don't want to wrestle with hard-to-reach shades, blinds or shutters to shield yourself from the scorching rays. At Knoxville Blinds, our custom window treatments will put control back in your reach. When searching for a set of high-quality motorized blinds, Farragut TN homeowners turn to Knoxville Blinds.
Our blinds are engineered and manufactured for optimum durability and style. Call 865-544-8339 to schedule a free in-home consultation today.
Until then, read on to find out which windows in your home could benefit from a set of motorized blinds:
1. Skylights
Skylights are your portal to direct sunlight, illuminating the darkest rooms in your home to create a space you don't ever want to leave. However, the shifting angle of the sun can transform any room into a convection oven in just a few seconds.
The only solution: motorization. Due to the skylight's position, you will not be able to use a traditional set of blinds, curtains or shutters. Motorized blinds will allow you to control the flow of natural light from the comfort of your couch.
2. Bathroom Windows
Bathroom windows have a habit of being situated in hard-to-reach places, whether they're behind the tub or above the shower. The last thing you want after a hard day of work is a tangled cord standing between you and a well-deserved soak.
With a set of motorized blinds, the push of a button will let you transition between natural light and invaluable privacy.
3. Two-Story Windows
Giant windows covering multiple levels have turned into a must-have for the modern-day homeowner. But for all their elegance, these monolithic panes can quickly become a headache.
While you could opt for a set of manually operated blinds or shutters, it can take minutes to raise and lower these window treatments. Motorized blinds are an effortless solution sparing you the eyesore of tangled cords.
Motorized Blinds Farragut TN Homeowners Love!
We stock and install a wide range of the latest motorized blinds you control from the comfort of your seat. Call 865-544-8339 to find out more.