Window treatments can do more than block out sunlight and give your family privacy. They can also enhance the appearance of your indoor space. If you would like to create a more refined ambience in your home, invest in elegant shutters.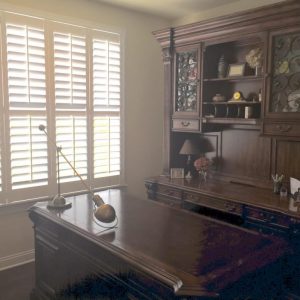 Reasons to Choose Plantation Shutters from Knox Blinds
No matter what type of windows you have in your house, plantation shutters can be an excellent choice. They are versatile enough to be used on practically any type of window. Shutters can also be installed on French doors and sliding glass doors.
Knox Blinds sells plantation shutters made with several durable materials. We offer products manufactured with a variety of vinyl and MDF composite grades, in addition to shutters crafted with real wood. If you choose wood shutters, you will be able to paint or stain them in the color of your choice to create a more elegant look in your home.
One of the downsides of shutters is that repeated opening and closing can produce stress that can gradually cause damage. With our plantation shutters, you won't have to worry about that. Shutters from Knox Blinds have mortise and tenon joints that are engineered to withstand stress so the window treatments don't suffer damage.
Meet with a Consultant to Learn More about Elegant Shutters
If you're thinking about installing plantation shutters, you probably have questions. You also most likely want to look at several styles to evaluate their quality and see their colors before choosing products for your home.
At Knox Blinds, we completely understand. Window treatments are a significant investment, so you want to get as much information as possible before making a decision. That is why we offer in-home consultations.
A consultant can meet with you at your house to show you the products we offer and go over the pros and cons of each. At the consultation, you will be able to look at plantation shutters right alongside your walls and furniture so you can envision how they would look if you installed them in your home. Call us today at (865)544-8339 to schedule an appointment.