Homeowners sometimes struggle to open and close the blinds on their windows. Installing motorized blinds can make life easier. Many homeowners enjoy the convenience that they offer but wonder are motorized blinds battery operated? Here are some things you should know!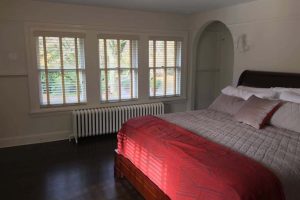 What Are the Benefits of Motorized Blinds?
It can be difficult to raise and lower blinds on windows that are tall or in hard-to-reach places. Adjusting blinds can also be a challenge for people who have limited mobility. In some cases, a house has a large number of windows, and it's a hassle to raise and lower all the blinds as the sun's position changes throughout the day.
If you find it hard to operate the window treatment in your house, or if you just want to save time and focus on other things, motorized blinds may be the solution. The team at Knox Blinds can install motorized blinds that can be operated using a multi-channel remote control. With motorized blinds, you'll be able to adjust one or more window treatments in seconds, simply by pressing a button.
How Do Motorized Blinds Work?
Motorized blinds can be powered by batteries or by a rechargeable motor that plugs into an outlet. How long the batteries last and how long the motor can operate on a single charge depends on the size of the blinds and how often they're raised and lowered.
Learn More about Motorized Blinds
You may have questions about are motorized blinds battery operated, the styles of blinds that we offer, which styles can be motorized, and whether installing motorized blinds is the best option for you. At Knox Blinds, we understand that buying window treatments is a long-term financial investment, and we want our customers to make an informed decision.
This is why we offer in-home consultations. One of our consultants can visit your house at a time that works for you. You'll have an opportunity to see samples of the window treatments we offer, learn more about motorization, and select the blinds that best suit your needs, your home's décor, and your budget. Call us today at (865)544-8339 to schedule an appointment!