Blinds are some of the most popular window treatments because they are attractive, easy to use, and available in a variety of styles. Knox Blinds offers numerous high-quality blind styles. If you're thinking about installing new blinds in your home, you can select the design and material that will complement your home's design and décor and will fit your budget.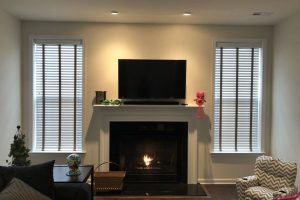 Choose from Slats in a Variety of Widths
Some blinds have wide slats, and others have slats that are thinner. Narrow slats work best on small windows. Blinds with larger slats can look out of proportion when used on small windows. If you have a large window, you should choose blinds with large slats. For medium-sized windows, a variety of slat sizes can work.
The width of the slats on your blinds will affect how much light can enter the room and how much of the area outside your home you will be able to see. If you want to let in a lot of light or have a clear view of the outside, but tilting the slats on the blinds won't do the trick, you will be able to simply raise the blinds to achieve your objective.
To clean the blinds, you will have to wipe each slat to remove dirt and dust. If you select blinds with narrow slats, there will be a large number of them. That can make cleaning more labor intensive and time consuming. Keep that in mind when shopping for window treatments for your home.
Select the Right Material and Features for Your New Blinds
At Knox Blinds, we offer blinds made with aluminum, faux wood, and real hardwood. You can select the material that will fit best with your home's design and furnishings, your individual style, and your budget.
We also offer motorized blinds. They can be helpful if you have windows that are so tall that it's hard to open and close the blinds, or if your home has lots of windows and you find yourself having to adjust them all manually throughout the day as the sun's position changes. Motorized blinds can help you eliminate the hassle by allowing you to adjust the blinds, either individually or all at once, using a multi-channel remote control.
A consultant from Knox Blinds can meet with you in your home to tell you more about the blind styles we offer. Call (865) 544-8339 to schedule an appointment.