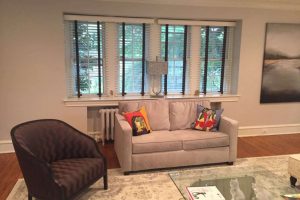 Window treatments are both functional and aesthetic. They can provide privacy and can allow you to control the amount of light in a room. The right blinds or shutters can also help you make a positive first impression on visitors. Knox Blinds has an impressive selection of blinds and shutters New Market TN, plus friendly staff who can answer your questions and help you make a decision.
High-Quality Blinds
Many companies offer blinds that need to be replaced every few years. Our blinds are manufactured with quality materials that are designed to last, which makes them a smart long-term investment. We sell blinds made from:
Aluminum
Faux wood
Real hardwood
We understand that adjusting blinds manually several times a day can be a hassle, especially if you need to adjust window treatments in rooms throughout your house. That is why we offer motorized blinds that can be raised and lowered, either individually or all at once, via a multi-channel remote control.
Attractive and Durable Shutters
New shutters can add to your home's charm, make it more attractive to visitors, and increase its resale value. Plantation shutters can be used to accent practically any type of window, as well as French and sliding glass doors. Shutters from Knox Blinds are more durable than those offered by many of our competitors. Our shutters have mortise and tenon joints designed to handle the forces that are produced when they are opened and closed.
We offer shutters made from:
Real wood (can be painted or stained)
Vinyl
MDF composite
Get Professional Guidance About Blinds & Shutters: New Market TN
When homeowners begin searching for new window treatments, they are often overwhelmed by the number of brands and the wide range of materials, designs, and features. It's easy to be confused, especially with companies making competing claims and with consumers and designers offering conflicting advice.
That is why Knox Blinds offers free in-home consultations. A member of our team can meet with you to explain all your options, answer questions about the products we offer and the installation process, address any concerns you may have, and help you choose blinds or shutters that suit your home's décor and your budget. Call (865)544-8339 to schedule a consultation at a time that is convenient for you.