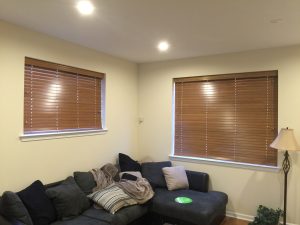 Shopping for new window treatments is a daunting process given the countless options available. It's easy to feel lost, overwhelmed, and discouraged, but an industry expert can turn this painstaking pursuit into a painless process overnight. At Knoxville Blinds and Shutters, our pros have the knowledge and expertise to help you find the perfect window treatments for your home. When searching for tried-and-tested advice on blinds and shutters, Walland TN residents turn to our crew to find stunning solutions.
We know it's hard to choose new blinds, shutters, or shades based on nothing more than a picture and a description from the manufacturer. Our pros will visit your home, bringing along samples to help you choose a window treatment that works for your indoor space. Discover the joy of browsing from the comfort of your living room; call 865-544-8339 to book your free in-home consultation.
Let's explore some of benefits of our in-home consultation services:
Free Expert Advice
Our pros have spent decades working in the industry, equipping us with the knowledge and expertise to provide you with proven solutions and suggestions to enhance your property. We can steer your home renovation project over the finish line, outfitting your indoor space with new window treatments that are equal parts functional and stylish.
Save Time
Browsing site after site, each offering its own conflicting advice, is a rocky road to disappointment and confusion. By consulting our pros, you can rest assured that you're on the quickest route from A to B without compromising quality.
More Options
At Knoxville Blinds and Shutters, we have access to a wide range of window treatments, from minimalist roller shades to modern motorized blinds. All of our offerings can be tailored to suit your exact tastes, giving you access to countless combinations of materials, styles, and colors to choose from.
Blinds and Shutters Walland TN Homeowners Love
Elevate your spaces with new window treatments handpicked by the knowledgeable pros at Knoxville Blinds and Shutters. We are passionate about beating our customers' expectations by helping them choose the best blinds, shutters, and shades for their needs. To find out more, call 865-544-8339 to speak to a member of our team.