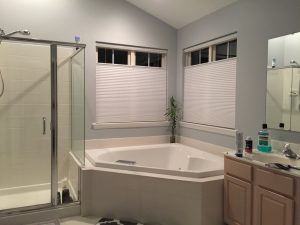 A set of stylish blinds or elegant shutters will shed new light on your old, tired spaces. But finding the right window treatments can feel like a chore as you drive from one store to the next in your endless pursuit of perfection. At Knox Blinds, our pros will visit your home to evaluate your rooms for free to provide their suggestions on the best solutions for your spaces. When searching for a company to handpick elegant blinds and shutters, Seymour TN residents trust the knowledgeable team at Knox Blinds.
One of our blinds professionals will bring window treatment samples to your property as part of a free consultation. Not only do we stock a wide range of different products, but we also have a variety of materials including sleek aluminum, faux-woods, and genuine hardwoods. Contact us at 865-544-8339 to schedule your free in-home consultation.
About Our Blinds and Shutters in Seymour TN
Choosing high-quality window treatments is essential to creating an elegant indoor space. Your window covering should also offer advanced light control and superior insulation without sacrificing on style. Why? Throughout the day, the sun's rays will heat your home, putting added strain on your already overworked A/C unit. Harsh sunlight can also bleach fabrics, dull wooden floors, degrade clothing, and destroy furniture. By investing in a window treatment from Knox Blinds, you can enhance your rooms, reduce your cooling and heating costs, and protect your possessions against sun damage.
At Knox Blinds, we understand it's impossible to choose a new window treatment based on nothing but a picture and a promise. During your free consultation, one of our knowledgeable specialists will visit your home or office and bring along samples of the various blinds, shutters, and shades we offer. You can browse through our products from the comfort of your own living room, enjoying peace of mind that our pros are on hand to help you find a window treatment that suits your space.
Contact Us Today for Expert Advice on Blinds and Shutters | Seymour TN
Simplify the shopping process with help from the talented team at Knox Blinds. Call 865-544-8339 to find out more.