Choosing the right style and material for your new blinds can be difficult. Selecting the right color can be even more challenging. Here are some things you should know about how to choose blinds color.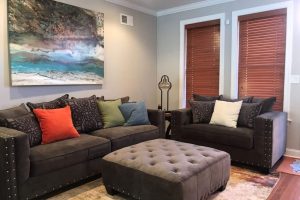 Match the Blinds to Something Else in the Room
You want your window treatments to work with other elements in the room to give the space a cohesive feel. To do that, you can choose a color for your blinds that matches another feature in the room. For example, you can select blinds that match the paint on the walls or window trim, the flooring, a rug, or furniture.
Choose a Contrasting Color for the Blinds
Another option is to select a color for your blinds that is completely different than the rest of the room. For instance, if the walls are painted a neutral color, installing blinds in a bold color, such as blue, can liven up the room and make a statement.
Consider the Size of the Room
The dimensions of the space can impact your decision on blinds. If the room is small, blinds in a light color can make it seem brighter and larger, while dark-colored blinds can make the room feel even smaller.
Think about How the Blinds Can Impact the Overall Aesthetic
When selecting new blinds, think about how much their color will be visible. A particular color may seem perfect, but it might not be the right choice if you plan to install blinds on several windows. If the blinds are all pulled down at the same time, the color may be overwhelming.
Still Not Sure How to Choose Blinds Color? Talk to One of Our Consultants
General advice can be helpful, but sometimes it isn't enough. That's why Knox Blinds provides free in-home consultations. You can speak with a consultant, look at samples of the blinds we offer, and see how specific colors would look in relation to your walls and furniture. You may realize that a color you had been considering wouldn't be the best choice, and the consultant may suggest a different shade that would work better. Call us today at (865)544-8339 to schedule a consultation.