If you're shopping for new window treatments to spruce up your home, you might be stumped by the question of which material to choose. Here are some facts that can guide you toward the right blinds and shutters Cedar Grove TN.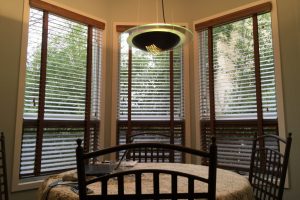 Durable and Stylish Blinds
Blinds can allow you to regulate the amount of sunlight that enters a room and keep your utility bills manageable. Adjusting the blinds is a simple way to maintain a comfortable indoor temperature so you won't have to rely too much on your furnace or air conditioner.
Knox Blinds offers blinds made with both natural and faux wood. Homeowners are often drawn to the timeless beauty of wood, but real wood is susceptible to moisture damage. In a bathroom or kitchen, faux wood is a better option. It offers the aesthetic appeal of wood without the need to worry about the effects of humidity.
We also sell blinds crafted with sleek and durable aluminum. Incorporating aluminum blinds can be the perfect way to complement your home's modern décor.
Tough and Attractive Shutters
If plantation shutters are more your style, you can select shutters made with vinyl, MDF composite, or real wood. Vinyl is an affordable material that's strong enough to stand up to daily use and easy to maintain. MDF composite shutters are made with a blend of materials that make them durable. If you can't resist the allure of natural wood, we can install plantation shutters that can be painted or stained in the color of your choice.
Repeatedly opening and closing shutters can cause damage. Unlike some other companies, Knox Blinds sells shutters crafted with mortise and tenon joints that keep them from wearing out prematurely.
Find the Right Window Treatments for Your Home
You might have questions about how different materials stack up against each other. A consultation can help you narrow down your options and choose the right blinds and shutters Cedar Grove TN.
We can arrange to have a consultant come to your house, show you product samples, and answer any questions you might have. Call Knox Blinds today at (865)544-8339 to schedule an appointment.