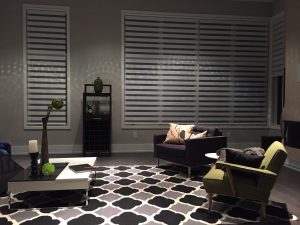 Shopping for a new window treatment doesn't have to be a complicated process. With Knoxville Blinds & Shutters, you can browse through our wide range of high-quality blinds, shutters, and shades from the comfort of your own home. Our pros can also visit your property, evaluate your design goals, and help you pick a window treatment that enhances your space. We bring the window treatment store to your front door.
Our specialists will arrange to arrive at a time that best suits your busy schedule. We'll bring along samples of our high-quality products and provide suggestions on which window treatments would work best for your spaces. Call us today at 865-544-8339 to schedule a visit from one of our pros.
Benefits of Shopping for a New Window Treatment at Home
Spending your weekend driving from store to store only to be confronted by the same limited options and cheap, low-quality window treatments will quickly derail plans to renovate your indoor spaces. It's often impossible to picture how a new set of blinds or shutters will look installed in your home, so store-bought window treatments are an expensive gamble that can pull the curtain on your remodeling budget.
At Knoxville Blinds & Shutters, we take a transparent approach to shopping for a new window treatment, arming you with the right information and expert advice before you pull the trigger. Our blinds, shutters, and shades are engineered for optimal durability, giving you peace of mind that your stylish new covering will serve its purpose for years to come. Whether you want a set of plantation shutters, motorized blinds, or cellular shades, our specialists have the knowledge and experience to help you find the perfect set for your needs and budget.
Speak to One of Our Window Treatment Specialists Today: Call 865-544-8339
Need help choosing new blinds, shutters, or shades? The pros at Knox Blinds are just a phone call away.
Our entire team is committed to offering high-quality products and expert advice at an affordable price. We have a broad range of materials, textures, and colors to choose from, so our inventory can match any interior style. Find out more – contact us at 865-544-8339 to discuss your window treatment goals.