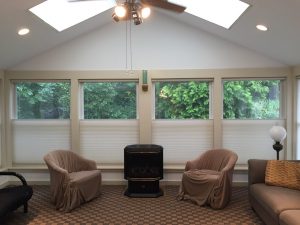 Every home or business is a hive of activity. Make sure you aren't stuck with a B-list window treatment. Honeycomb shades, or cellular shades, provide superior insulation, privacy, and light control. At Knoxville Blinds & Shutters, our experienced crew can help you choose the perfect window treatments for your exact needs. Still asking, "What are cellular shades?" The team at Knox Blinds is here to answer your questions.
We know it's not easy to choose the right window treatment based on nothing more than a photo. Our team will visit your home for free and bring samples to help you choose the right cellular shades for your space. Call 865-544-8339 today to get started.
Are Cellular Shades Right for My Home or Business?
Cellular shades are made up of hundreds of cells designed to trap air to create a barrier of insulation between the window and your indoor space. Your windows and doors are responsible for around one-third of your home's thermal loss. This leads to increased heating and cooling costs during the winter and summer seasons.
Some cellular shades can provide the same amount of insulation as a double-glazed window. This is a benefit you can expect from the shades at Knox Blinds, and it doesn't come at the cost of style and functionality. Not only are cellular shades easy to use, but a stylish window treatment from Knoxville Blinds & Shutters can also enhance your indoor space.
Our experienced crew will consider numerous factors when choosing your new shades, from the size and features to the materials and style. Our shades can stand the test of time, guarding your home against glare and shifting temps for years to come.
Still not sure if cellular shades are the right window treatment for your home? When we conduct our free in-home consultation, our experts will have the tools, skills, and knowledge to offer you recommendations on which treatment will best benefit your home or business.
Call Now to Schedule Your Free In-Home Consultation!
Now that we've answered your question: "What are cellular shades?" it's time to upgrade your indoor space with a stylish window treatment from Knox Blinds. Call 865-544-8339 today to schedule your free in-home consultation.