Cellular shades are among the most popular types of window treatments, but many homeowners don't know what they are or how they work. If you're looking for new window treatments, here are some things you should know about cellular shades insulation, light control, and privacy.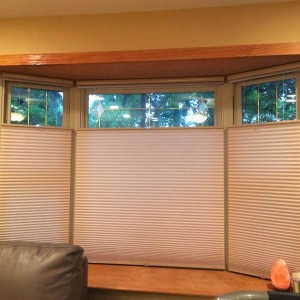 What Are the Benefits of Cellular Shades?
Cellular shades, which are sometimes referred to as honeycomb shades, consist of a series of small cells that provide excellent insulation. If you install cellular shades, they'll help keep your house warm in the winter and cool in the summer and keep your utility bills down, regardless of the season.
Homeowners also choose cellular shades because of their ability to block out varying amounts of light. You can install shades that will give a room a soft glow or ones that will block out light completely.
When you raise cellular shades, they will stack at the top of the window so you can enjoy the view of the neighborhood and the landscape around your home. If you want privacy, you can lower the shades to keep neighbors from seeing inside your house. If you want to see what's going on outside while controlling the amount of light and heat that enter your house, you can adjust the shades accordingly.
How Can You Learn More about Cellular Shades?
If you aren't sure if cellular shades are right for your house, or if you need help figuring out which type of honeycomb shades would work best, an in-home consultation can help! One of our consultants can come to your house at a time that suits your schedule, show you samples of the cellular shades that we offer, and answer any questions you may have.
A consultation eliminates the guesswork that's often associated with buying window treatments and allows homeowners to shop with confidence. Our customers appreciate having the opportunity to see samples and get their questions answered before they commit to a purchase. They also feel more comfortable after looking at window treatments in the rooms where they plan to install them so they can be sure that they're choosing the right style and color.
Call Knox Blinds today at (865)544-8339 to schedule a consultation so you can learn more about cellular shades insulation and the other benefits that they offer!