Choosing the right blinds and shutters for your house can be a stressful process. Homeowners often feel overwhelmed by all the options or don't know which companies sell the best products. Never fear – Knox Blinds offers durable and stylish blinds and shutters Huntsville TN!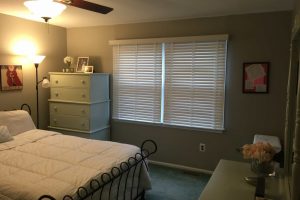 Why You Should Purchase Blinds or Shutters from Knox Blinds
Our blinds are crafted with durable aluminum, real hardwood, and faux wood. They come with slats in a range of sizes to suit different types of windows. No matter which style of blinds you select for your home, you can be confident that your new window treatments will last for years.
If you're interested in plantation shutters, we offer products made with real wood and vinyl and MDF composites. If you select real wood shutters, you can have them painted or stained in the color of your choice.
One reason why plantation shutters are so popular is because they're versatile. They can be installed on nearly any type of window, plus French doors and sliding glass doors.
Schedule a Consultation and Shop with Confidence
We understand that new window treatments can be a significant financial investment. Before you order new blinds or shutters, you want to carefully consider your options and be sure that you're making the right choice.
Shopping for blinds and shutters Huntsville TN in a store might seem easy and convenient, but it can lead to problems. You might fall in love with window treatments that you see in a showroom, but they might not look the way you envisioned after they're installed in your house.
Buying blinds or shutters online can also be fraught with problems. It can be difficult to tell exactly how window treatments will look in your home based on a picture, and the color that you see on your screen might not be the way the product really looks.
An in-home consultation can eliminate doubt and uncertainty. A consultant can visit your house and show you samples of the blinds and shutters that we offer so you can see their design and quality for yourself. You'll also get to see how they will look in your house and be sure that you're choosing the right window treatments for that particular room.
We can work with you to find a time that suits your schedule. Call Knox Blinds today at (865)544-8339 to schedule an appointment!