When the weather turns colder, homeowners typically see their utility bills spike. If you're tired of spending a lot of hard-earned money to keep your home warm in the winter months, you may want to install new window treatments to block out the cold. A consultant from Knox Blinds can help you choose the best blinds for winter.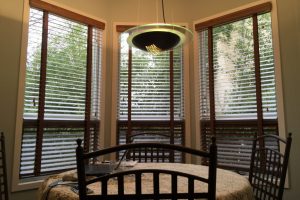 How New Blinds Can Help Keep Your House Warm
In a typical home, a significant amount of heat escapes through inefficient windows and gaps around them. Covering windows with blinds is a simple way to reduce heat loss. Keeping warm air inside your house means your furnace won't have to work so hard to maintain a comfortable temperature and you will use less fuel and enjoy lower heating bills.
At times when the sun is out, you can open the blinds to let sunlight warm your house instead of relying on the furnace. When the sun goes down, you can close the blinds to help your home retain heat. Using blinds in that way may help you reduce your home heating bills substantially.
Window Treatments from Knox Blinds
We offer blinds made with faux wood, real hardwood, and aluminum that can block out cold air. All of our products are crafted from quality materials and are designed to be durable. If you invest in window treatments from Knox Blinds, you can be confident that they will last for years.
Gaps around windows can allow heat to escape. That's why it's important to install blinds that are fitted properly for the windows in your home. The team at Knox Blinds can carefully measure your windows and create blinds that meet those specifications.
Schedule a Consultation to Learn More about the Best Blinds for Winter
You probably have some questions that you need to have answered before you choose new window treatments for your home. Knox Blinds has a team of consultants who are available to help. Call us at (865) 544-8339 to make an appointment to meet with a consultant in your home to learn more about the products we offer and how they can help you keep your house warm and lower your heating costs this winter.