For many families, the kitchen is the room that sees the most traffic on a daily basis. The window treatments that you select for your kitchen should be attractive and should allow you to control the amount of light that enters the room. It's also important to select blinds made from a material that can resist moisture damage and that will be easy to clean. A consultant from Knox Blinds can help you choose the best material for kitchen blinds.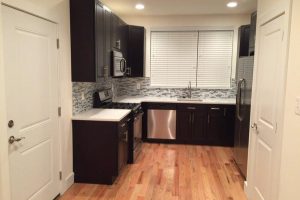 Types of Window Treatments We Offer
We sell blinds made from several types of materials, including faux wood, real hardwood, and aluminum. All our products are designed and manufactured with durability in mind. That commitment to quality can give you confidence that any window treatments you purchase from Knox Blinds will be a smart investment.
Wood blinds are versatile. They can be painted or stained in an array of colors to suit any home's décor. If you're considering wood blinds for your kitchen, think about whether they would be exposed to moisture. If you're looking for window treatments to install near the kitchen sink, they could be accidentally splashed with water. Wood blinds should only be used in such an area if they have a protective layer to prevent water damage.
Aluminum blinds are naturally resistant to moisture, which makes them a good choice for a window near the kitchen sink. Aluminum blinds are available in numerous colors and are easy to clean. They have a modern appearance that can make the kitchen more attractive and stylish.
Many of the window treatments we offer can be motorized. If you're tired of raising and lowering blinds to control the amount of light that enters a room, we can install blinds that you can easily adjust with a multi-channel remote control.
Contact Us to Learn More
If you're thinking about installing new blinds in your kitchen, get in touch with Knox Blinds. We're dedicated to providing quality products and excellent customer service. Call (865) 544-8339 today to make an appointment to meet with a consultant to discuss the best material for kitchen blinds or to request an estimate.