Plantation shutters are both durable and versatile. They have mortise and tenon joints to protect them from damage that can be caused by repeated opening and closing. Plantation shutters can be used to complement nearly any window style. A consultant from Knox Blinds can help you choose the best material for plantation shutters.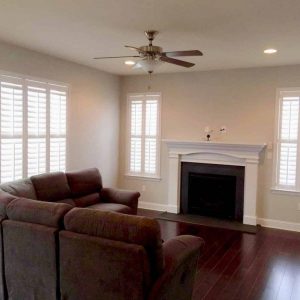 What Types of Plantation Shutters Are Available?
Knox Blinds sells the high-quality plantation shutters and quality window coverings. Our plantation shutters are backed by a lifetime warranty, and are known for their density, strength, and durability. They are also known for their ability to resist peeling, cracking, chipping, and yellowing. Our plantation shutters are a top choice among homeowners.
Our hybrid shutters have louvers made of lightweight but durable ABS. The louvers have a design similar to that of aircraft wings and are lightweight, strong, and rigid. A waterproof option is available for the kitchen and bathroom.
We also offer stained shutters made with Paulownia hardwood that is conditioned for durability. A unique drying process customizes the moisture level to reduce shrinking and swelling after the shutters are installed. The natural characteristics in the wood graining provide depth and character.
Our Ultra shutters represent the culmination of over two decades of innovation and craftsmanship, combining the best designs and materials available. They are the world's best performing shutters, with more wood and thicker louvers than other lines.
How to Choose the Right Plantation Shutters for Your Home
The products that Knox Blinds sells are all well designed and made with quality materials and expert craftsmanship. When choosing the best material for plantation shutters for your home, you should consider your house's design, your aesthetic preferences, your family's lifestyle, and your budget. No matter what your needs are, we have a high-quality product for your home.
A knowledgeable Knox Blinds consultant can come to your home to discuss your options. During a consultation, you will have an opportunity to look at the products we offer, compare their designs and materials, and ask questions so you can make an informed selection. Call Knox Blinds today at (865)544-8339 to schedule an appointment.