When shopping for window treatments, controlling the amount of light and maintaining privacy are generally top priorities. You may have considered blinds and shutters, but you may also be interested in learning: what are woven wood shades?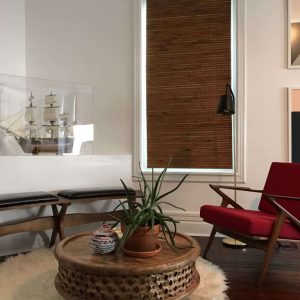 Are Woven Wood Shades Right for Your Home or Business?
Woven wood shades can be made from bamboo, rattan, or other materials that are woven together to create a textured pattern with natural variation. They can add visual interest to any room's decor.
The thickness of woven wood shades can vary. Thicker shades will block out more light than thinner ones. If you choose thinner shades, people outside your house may be able to see through it under some circumstances. A liner on the inside can protect your privacy. If you want to completely block light and make it impossible for anyone to see through the shade, you can install a blackout liner. You will have the option to raise and lower both the shade and the liner, or just one at a time.
Some woven wood shades have a cord that is used to raise and lower them. You may decide to install shades that are motorized and that can be adjusted with a remote control. That can make it easy to raise and lower the coverings if you have windows in hard-to-reach places or a large number of windows throughout your home or business.
Woven wood shades are easy to maintain. In most cases, they can be cleaned with a vacuum cleaner's brush attachment and a damp microfiber cloth.
Learn More from Knox Blinds
Knox Blinds offers woven wood shades in a variety of sizes and finishes to suit any home or business. They can create an atmosphere that is both natural and refined.
If you've looked at window treatments online or in stores, you may be feeling overwhelmed by the variety of products, styles, and brands. One of our consultants can help you make sense of it all. A consultant can meet with you in your home at a time that is convenient for you to show you some of the window coverings we offer and to answer your questions so you can better understand what are woven wood shades. Call Knox Blinds today at (865) 544-8339 to make an appointment.