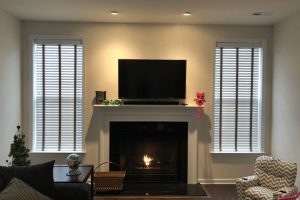 Blinds and shutters can give you privacy when you want it, help to keep your home or business cool on a hot day, and create a positive first impression when family members, friends, or clients come to visit. If you're looking for the best selection of blinds and shutters, Arline, TN, contact Knox Blinds. We offer an impressive collection of window treatments made from quality materials, as well as free in-home consultations, free estimates, and no-cost installation.
Where to Find High-Quality Blinds and Shutters in Arline TN
We sell blinds that are crafted to be durable and long-lasting. Unlike window treatments of lesser quality that some other companies offer, Knox Blinds sells products that you will be able to enjoy for years before you have to replace them. We offer blinds made from a variety of materials, including:
Aluminum
Faux wood
Real hardwood
Plantation shutters can draw attention to windows of any size and style and can improve your home's or business' curb appeal. Since they are permanent fixtures, shutters can also increase the building's value. Knox Blinds offers shutters with mortise and tenon joints that are engineered to help the shutters withstand the stress of being opened and closed. You can choose shutters made with:
Vinyl and MDF composite
Real wood that can be painted or stained
Meet with a Consultant to Explore Your Options
Selecting blinds or shutters can be difficult, especially if you only have an opportunity to look at products in online photos or in a showroom. This is why Knox Blinds offers free consultations. A consultant can meet with you in your home or at your place of business to show you blinds and shutters we offer, explain their features, and help you decide which would be best for your décor, your family's or company's style, and your budget. You can schedule a consultation at a day and time that are convenient for you.
Contact Us to Make an Appointment
Knox Blinds has the best selection of blinds and shutters in Arline, TN. We offer products made with a variety of quality materials to suit any home or business design and budget. Call us today at 865.544.8339, email info@knoxblinds.com, or fill out an online form to schedule a free consultation.