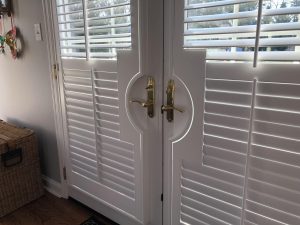 Front doors come in a wide range of styles, and windows can be various sizes. A front door may have a window at the top or sidelight windows on either side, or the door may consist mostly of glass. Windows in a front door can let natural light into a house, but they can also raise privacy concerns. Knox Blinds sells front door window blinds that can shield your family from the eyes of people who may be walking or driving by while still allowing you to let in sunlight whenever you want. At Knoxville Blinds and Shutters, we offer blinds to suit a variety of front door designs, homes, and budgets.
Types of Blinds to Consider for Your Front Door
Selecting the right blinds can be difficult, especially if you need to figure out how to cover one or more windows in your front door. Knox Blinds offers expertly crafted blinds made from aluminum, faux wood, and real hardwood. Our blinds last longer than those that some other companies sell, which means that our window treatments are a good investment.
Get Professional Help Choosing Front Door Window Blinds
Knox Blinds makes the process of selecting blinds easier by offering free in-home consultations. One of our experienced consultants can meet with you at your home at a time that is convenient for you and your family and discuss:
The design of the front door, including the size and location of the window(s)
The aesthetics of the rest of the house
Differences between various styles of blinds
Types of materials
How the way the blinds would look from outside could influence your decision

Once you have all the necessary information, you will be able to select blinds that are well suited to the design of the front door and to your home's décor.
Contact Us to Learn More
Blinds on your front door can provide privacy when you want it, allow you to let in natural light whenever you choose, and complement the décor in the rest of your home. Choosing the right blinds can be complicated, which is why Knox Blinds offers free in-home consultations, as well as free estimates and no-cost installation. Call us at 865.544.8339, email us at info@knoxblinds.com, or fill out an online form to schedule an appointment.